See on Scoop.it – STEFANO DONNO GLOBAL NEWS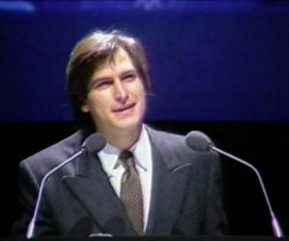 It's January, 1984. Steve Jobs, nattily attired in a double-breasted suit, is demonstrating Apple's breakthrough personal computer, Macintosh, before a packed room. He speaks alarmingly of a future controlled by IBM, and shows a dystopian commercial based on that theme. He says that the Mac is "insanely great" and plucks the diminutive machine from a bag; it talks for itself. Screens of a graphical user interface — something few people had seen at the time — swoop by. The theme from Chariots of Fire swells. Jobs beams, as only he could.
This presentation, at Apple's annual shareholder meeting on January 24, is the stuff of tech-history legend. What's not so well remembered: Jobs did it all twice, in less than a week. Six days after unveiling the Mac at the Flint Center on the De Anza College campus near the company's headquarters in Cupertino, Calif., he performed his show all over again at the monthly general meeting of the Boston Computer Society. His host, Jonathan Rotenberg, was a 20-year-old student at Brown University who'd co-founded the BCS in 1977 at the age of 13.
Over at YouTube, you can watch the Cupertino presentation, along with a sort of a rough draft held as part of an Apple sales meeting in Hawaii in the fall of 1983. As for the BCS version, all 90 minutes of it are there in the video at the top of this post, available for the first time in their entirety since they were shot on January 30, 1984.
The Cupertino and Boston demos may have been based in part on the same script, but the audience, atmosphere and bonus materials were different. In Cupertino, Jobs spoke before investors, towards the end of a meeting which also included dreary matters such as an analysis of Apple's cash flow. In Boston, he presented to the kind of people who Apple hoped would buy Macs. You didn't even have to pay the BCS's $24 annual membership fee to get in, which meant that the meeting was the closest thing the computer had to a launch event intended for the general public.
Click headline to read more more and watch video clip of Steve Jobs BCS presentation–
See on techland.time.com